Growling Door Games
From Chill
---
---
From Growling Door Games website's about us page [1]
---
Growling Door Games
[
edit
]
Growling Door Games is Matthew McFarland and Michelle Lyons-McFarland. We formed a game company in 2012 to facilitate the release of our first original roleplaying game, curse the darkness. In 2013, a copyright dispute forced us to change the company name, and we settled on Growling Door Games. If you meet one of us at a con, ask us to demonstrate why. It's kind of funny.
The mission statement for Growling Door Games is, quite simply, to make games about subjects that we think are important, fun, or awesome. It's nice if the games have some education potential or value — so far, they do — but that's not something we're prepared to promise for every release. The act of play has value for its own sake, and although we have our reasons for making any given game, that's really the highest truth: we like games. Games are fun. They bring us together with friends and family and provide entertainment, shift in perspective, and good stories.
---
About Us
[
edit
]
Both Matthew and Michelle are industry veterans. Michelle Lyons-McFarland has been working in roleplaying games since 2000, working in-house on lines such as Shadowrun, BattleTech, and Dungeons and Dragons and freelancing for companies from Green Ronin Publishing to White Wolf/Onyx Path Publishing. She has a particular interest in the overlap between games and education, bringing her two worlds together. She is currently pursuing a doctorate in English literature at Case Western Reserve University with the goal of becoming a professor and game designer — a lofty goal indeed.
Matthew McFarland, also known as BlackHat Matt, has been writing and developing roleplaying games professionally since 1998. Most of the work he has done has been for White Wolf Game Studio, where he contributed to almost all of their game lines (including both incarnations of the World of Darkness). He spent three years as lead developer for the Dark Ages game line, and wrote the Ennie-winning demo chronicles for Vampire: The Requiem and Mage: The Awakening. He has also done some assorted work for Green Ronin, Eden Studios, and Guardians of Order. In Matt's day job, he is a speech-language pathologist for the Cleveland Metropolitan School District.
---
Growling Door Games products
[
edit
]
curse the darkness
[
edit
]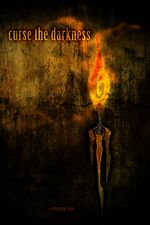 curse the darkness
The road to Hell on Earth is paved with good intentions. This is the world you have inherited: Billions dead, cities swallowed by shadows, an unseen master controlling the creatures of the Between."
"Do you fight back, trying to reclaim the world that you remember, and light a candle? Or do you decide to live within this world, follow His rules, and simply curse the darkness?

---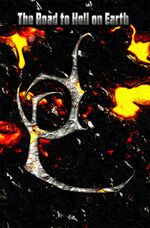 The Road to Hell on Earth
The world ended in 2012. Cities fell, billions of people died, and the survivors had to learn to live by His rules - rules that forbade ideology, religion, politics, and other such divisions between people. Now, 10 years later, the citizens live uneasily, forever looking at the shadows and wondering if He judges them still.
"This has not been an easy or slow transition. In this anthology, nine short pieces of fiction show how our world went from one we all know to the somber, terrifying world of curse the darkness. Come and discover how the world ended. Walk the Road to Hell on Earth."
---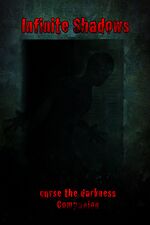 Infinite Shadows Companion
Infinite Shadows: curse the darkness Companion features new rules for curse the darkness, including systems for ghosts, expanded information for Openers and other characters who interact with the Between, and example scenes, characters and scenarios.
---
A Tragedy in Five Acts
[
edit
]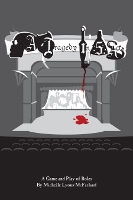 A Tragedy in Five Acts
A Tragedy in Five Acts is a competitive roleplaying game in which players plot, bargain, and bid against one another to make their character the central figure in an impromptu five-act tragedy created by the group as a whole. Everyone comes to a bad end, but that's the fun — and the winner gets to name the play!
---
Chill Third Edition
[
edit
]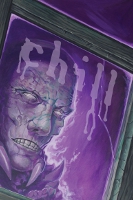 Chill Third Edition
The uneasy feeling that creeps up your spine as you walk down a darkened hallway. The way your footsteps echo oddly on a deserted street at night, as though there was someone walking somewhere behind you. The shape you see out of the corner of your eye when you're home alone. The Unknown lurks in the dark. We all know it. Luckily, some of us use that knowledge to fight. The odds may be against us, but we can win.
---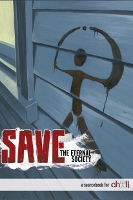 SAVE: The Eternal Society
SAVE: The Eternal Society is a sourcebook for Chill Third Edition. It looks at the type of people who join the Societas Argenti Viae Eternitata. It examines the history of the organization and the rise of Hayat Nejem's cell-based approach to fighting the Unknown, and provides and expanded system for building a SAVE HQ for your Chill stories. In addition, this book provides four new cases for SAVE envoys to experience, and 10 new creatures to bedevil and terrify them. Anyone can join the Society. All that's required is the will to face the Unknown. Do you have it?
---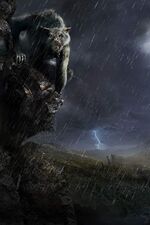 Chill Master's Screen
This sturdy, trifold cardboard screen features art from Chill Third Edition by Alessandro Alaia, and helpful reminders for the Chill Master including token costs for disciplines of the Evil Way, summaries of the disciplines of the Art, and quick refreshers on many of the other rules you'll find helpful to reference in play!
---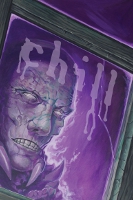 ---
Monsters
Monsters is an antagonist book for Chill® Third Edition, detailing creatures of the Unknown that don't fit neatly into other categories. In this book, you'll find 15 new creatures of the Unknown, as well as in-depth discussions of how these creatures fit into the world of Chill®. Also included are new pregenerated characters and new Edges and Drawbacks for use in your Chill® games.
---
Controversy
[
edit
]
Growling Door Games, founded by Matthew McFarland and Michelle Lyons-McFarland in 2012 is shutting down. The husband and wife owners are long time producers in the role-playing game industry.
The couple have also announced they are leaving the industry after recent accusations of sexual misconduct and nepotism. Matthew McFarland outlined the reasons for the shutdown in a post on Medium.
In 2017, he was accused of sexual assault and statutory rape on RPG.net, where he was a moderator. Onyx Path Publishing severed ties with the freelance developer shortly after. At the time of the accusation, McFarland was the convention coordinator of Indie Game Developer Network (IGDN). The president of IGDN at the time was his wife, Michelle Lyons-McFarland.
"This was an obvious conflict of interest, and what should have happened was this: I should have stepped down as convention coordinator," McFarland said in post.
The company said they will complete the fullfillment of their Undead sourcebook for Chill Third Edition. They have also said they will no longer take any revenue from their products. Products will no longer be available on Indie Press Revolution, and they are in the process of transferring ownership of Chill products to the owner of the IP.
"We have no plans to enter the RPG industry as professionals, freelancers, or creators of any kind, and once the company is shut down, we will receive no revenue from any products to which we have contributed." said McFarland in his post.
---